Date/Time
Date(s) - 18/09/2015 - 20/09/2015
12:00 am
Location
Oxford Spires Hotel
Categories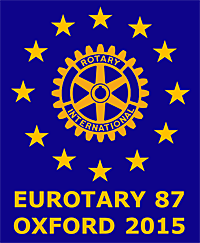 Haddenham and District Rotary Club
To all members of Eurotary 87, December 2014.
Dear Fellow Eurotarians,
It seems only yesterday that many of us were enjoying the sunshine, the food and wine, the entertainment and above all the friendship of our hosts at the 23rd Assembly of Eurotary at Fos – sur – Mer, France.
We are now delighted that it is the turn of Haddenham and District Rotary Club to extend a very warm welcome to the 24th Assembly at Oxford in September 2015. We are also pleased that we have been able to put together a full programme for the weekend that complements the programme we enjoyed during the 2007 Eurotary Assembly in Oxford.
The programme will start on Friday 18th September with a golf competition at Oxford Golf Club and, after registration at the four star Oxford Spires Four Pillars Hotel, we will dine and present the Oxford Fiddlers Group who will entertain us with a very lively concert.
On Saturday 19th September we will travel by coach to Windsor Castle and then journey by boat up the River Thames from Windsor to Maidenhead and then back to our hotel. On Saturday evening we will enjoy our Gala Dinner and then listen and dance to the traditional jazz band 'Anything Goes'.
We want to make sure that all our guests get a very good value weekend and because of this we proposed at the 2014 AGM that we have an early AGM in Oxford so that all of our guests can enjoy a visit to Waddesdon Manor on Sunday morning. So Rotarians, it's up a bit earlier on Sunday morning so that we can ensure that our guests can fully enjoy the weekend. We will return to a farewell lunch at the Four Pillars Hotel.
We are pleased that we have been able to contain the cost of the weekend to £305 per person (based on two nights with two sharing), with a supplement of £50 for single room occupancy. The golf competition and lunch will be an additional £35. We will also be pleased to book additional nights before and after the weekend if required.
We appreciate that this is early notification for the event next September, but we do need to get a good guide as to the numbers that are likely to attend from each club. We are very aware that the Rugby World Cup is in the UK next year and that it coincides with our weekend. We need to ensure that our hotel and other bookings are made in good time to avoid disappointment.
We ask all of you, then, to send an estimate of your attendance as soon as possible and before March 1st. We will finalise registration by the 1st June.
We look forward to welcoming you to Oxford and the welcome will be great whether it is your first visit to a Eurotary weekend or whether you have been to many.
With our sincerest best wishes to all members of Eurotary 87,
Yours in Rotary,
Peter Jones
Eurotary President 2015.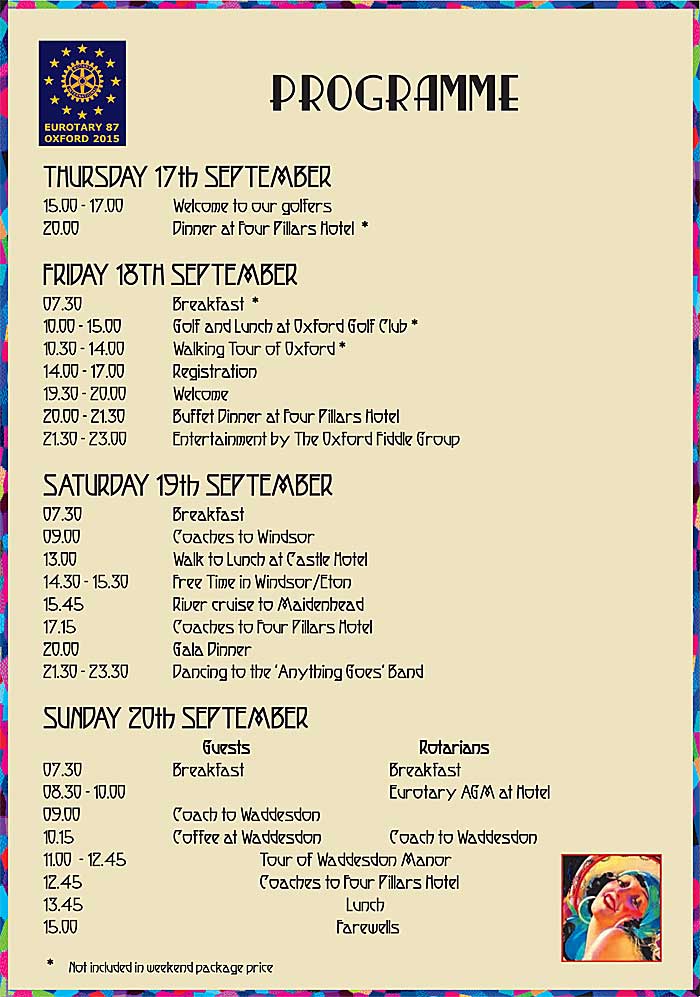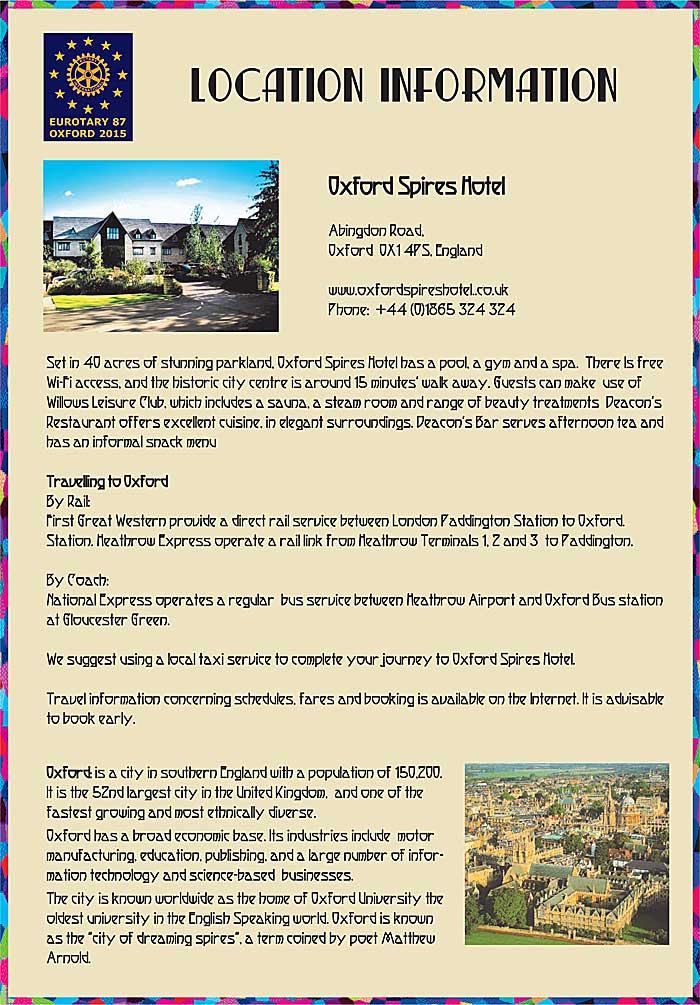 ---
---
---
---